I can't believe that it's March already. I spent a week decompressing after a whirlwind of activity getting ready for the February sale at Sweet Clover Barn. I had to fill the cottage last month as well as my usual barn space.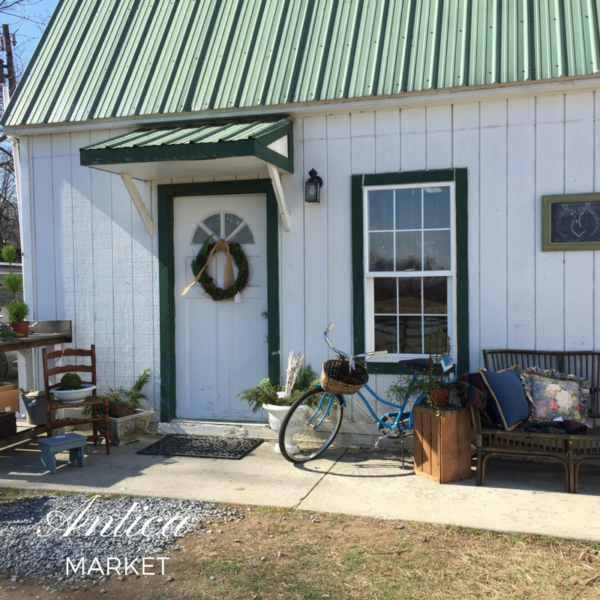 I went with an English Country feel. I was so busy planning and shopping and pricing and staging that I didn't find any time for blogging.
I know it's a little anti-climatic, but I wanted to show you how things turned out. I didn't want to over buy because I don't have tons of space right now for storage. My husband suggested I take the Navy Leather couch that we had bought as newlyweds. It is a beautiful piece, but it wasn't getting much use in his basement office. So I started to build my design plan around the couch.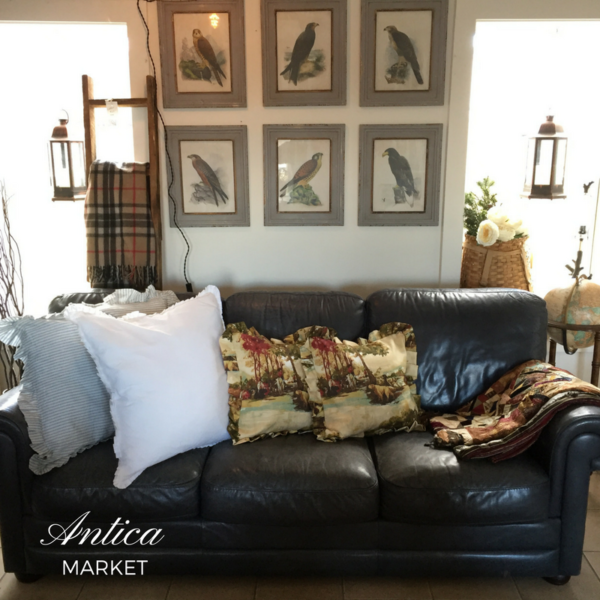 I purchased the birds of prey prints and some lanterns from my wholesaler and loved how they looked with the couch. The couch is priced at $999 and the prints $29/each and are still available.
I made the two smaller pillows with some beautiful clearance fabric I picked up at a local fabric store – I think it was something like $5.00/yard. I made a little ruffle edge and an easy pocket style pillow.
A women came in and when she spotted the pillows she exclaimed, "Oh, these are mine!" They went home with her and it made the work very worthwhile to see the bit of joy they brought someone.
Even though I was going for an English Country look, I brought in some farmhouse decor as well.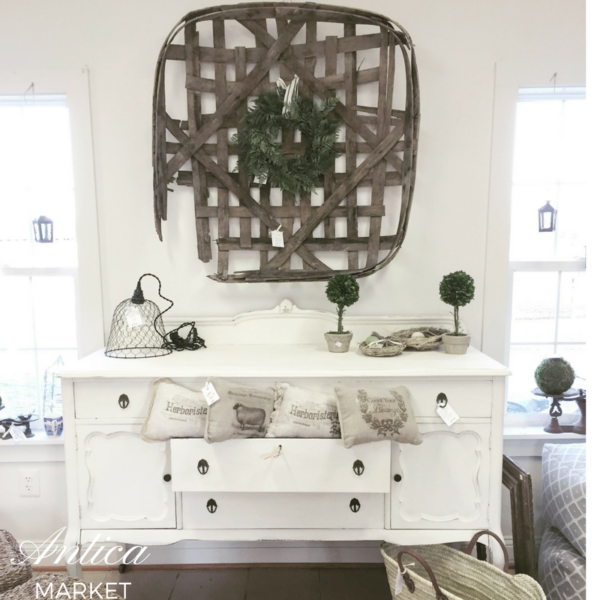 The white antique buffet was a redo. I purchased it last year from a thrift store and painted it in a slate and cream milk paint combo, but it didn't sell and I really thought it needed a different look, so I bought some Annie Sloan chalk paint in Old White and repainted it.
I loved the new look and evidently someone else did too because it sold rather quickly.
The antique tobacco basket came home with me from a North Carolina trip and it has found a new home with a happy customer too!
On the other side of the room I hung little black lanterns and placed a painted keyhole desk and decoupaged bookcase.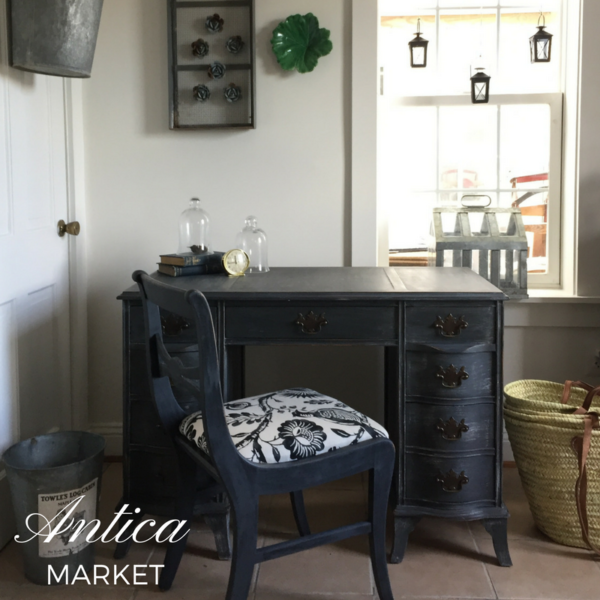 The desk, a hand-me-down piece, had a leather inlay top that I painted over with Graphite Chalk Paint and then went back over and dry brushed with a lighter grey color. I distressed it and finished it with clear and dark wax. I love the weathered look that it has. The desk is still available for $250.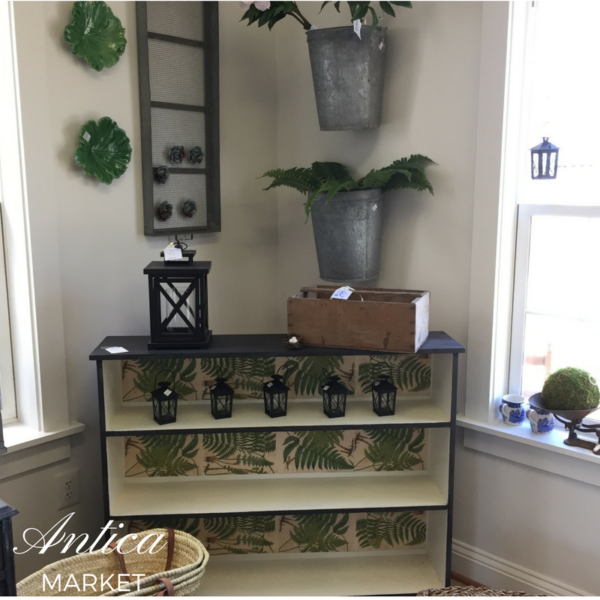 The bookcase is also available ($98). It is painted in a weathered black milk paint on the outside, antique white interior with a decoupaged fern print backing the shelves.
Here are a few more pictures that show off more of the English Country merged with farmhouse decor for your viewing pleasure.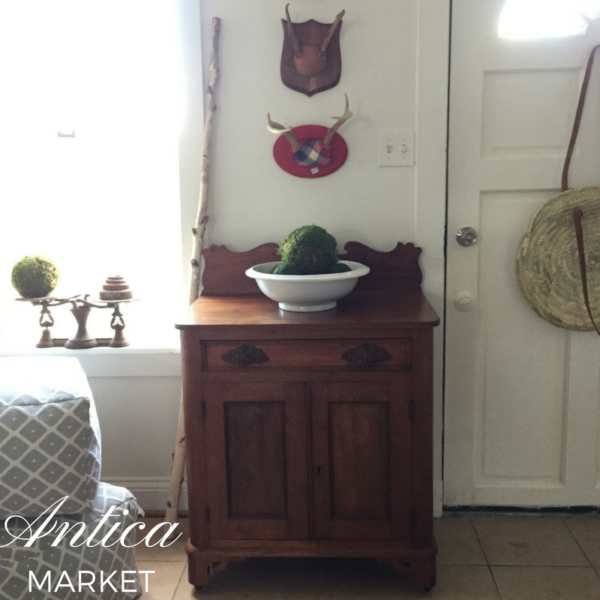 The handmade poofs have sold, but the lovely antique walnut washstand is available for $250.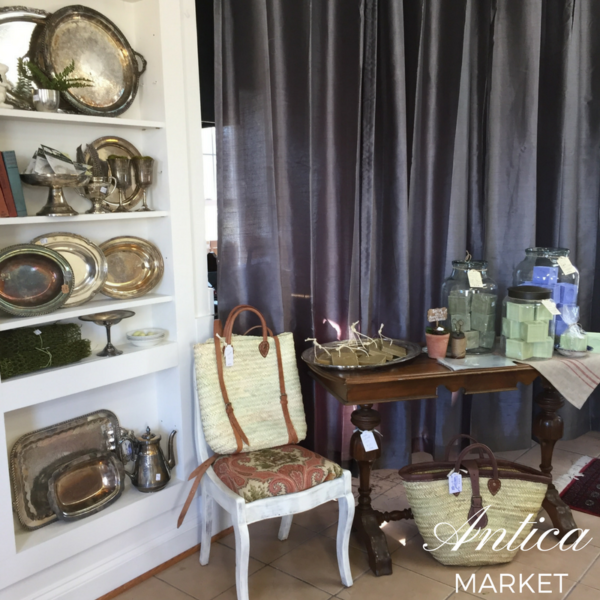 You may have noticed these cute market baskets – they are handmade in Morocco and I will have a variety of styles available in my regular space at Sweet Clover Barn in March!! I have some Savon de Marseilles soap available too. A few of the silver pieces have made there way into my online shop.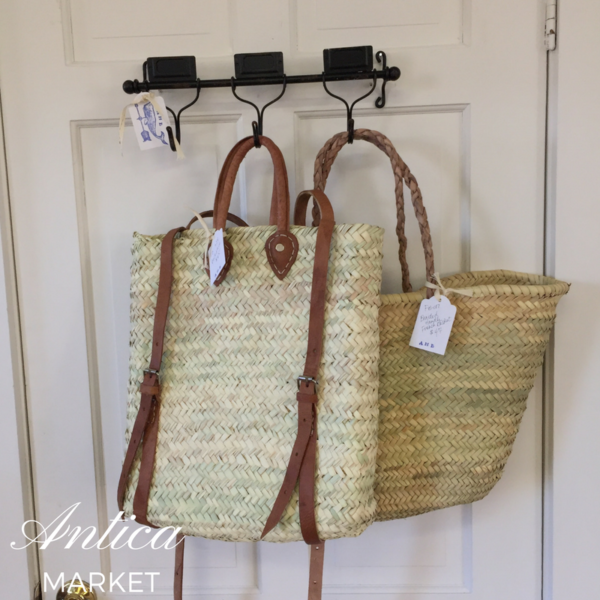 I am surprised this gorgeous walnut dresser is still available – it really is a stunner- $384. I will have it at the March sale.
Thanks for stopping by. Fondly, Michelle
Please follow and like us: