It was a rainy day here yesterday and one of my little ones was home sick with pneumonia, so it just seemed like a homemade chicken noodle soup kind of day.
I hope you don't mind me stepping away from the home decor and furniture makeovers for a moment and sharing with you one of my favorite recipes.
 I really do think it has some healing properties and it just tastes so yummy!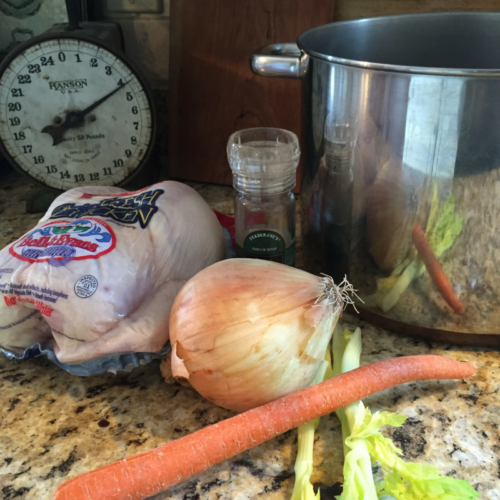 Homemade Chicken Noodle Soup Ingredients:
Whole raw chicken
about 6 celery stalks (I like the inner stalks with the leaves for the beginning broth, dice the other three)
about 6 – 8 peeled carrots (peeled and diced)
1 whole peeled onion
3/4 cup dry noodles (orzo, alphabet, egg noodles or small shells – it's really your preference)
cup of frozen peas
10 whole peppercorns
2 tsp. salt
Seasonings for Bouquet Garni: 1 bay leaf
2 peeled garlic cloves
about 10 whole peppercorns
dried parsley, italian seasoning or fresh oregano and thyme
one coffee or tea filter
First place the chicken in a large stock pot and fill with water until the chicken is covered.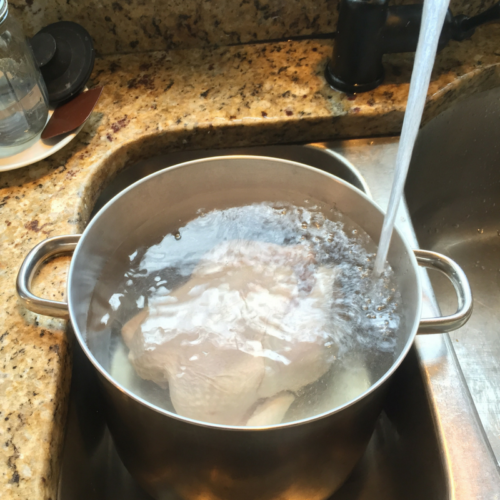 Then add one peeled carrot, center celery stalks with leaves still on (these are usually smaller and I add about 3), a peeled whole onion and about ten whole peppercorns and 2 tsp. of salt to the pot and place on the stove on high heat.
This is when I make and add a bouquet garni which is a small pouch of herbs that add flavor to the soup.  I made a short video explaining how I do this.
Let the pot come to a boil and then reduce heat to continue simmering.  
I usually let it simmer for about 3 hours or until the chicken is falling off the bone.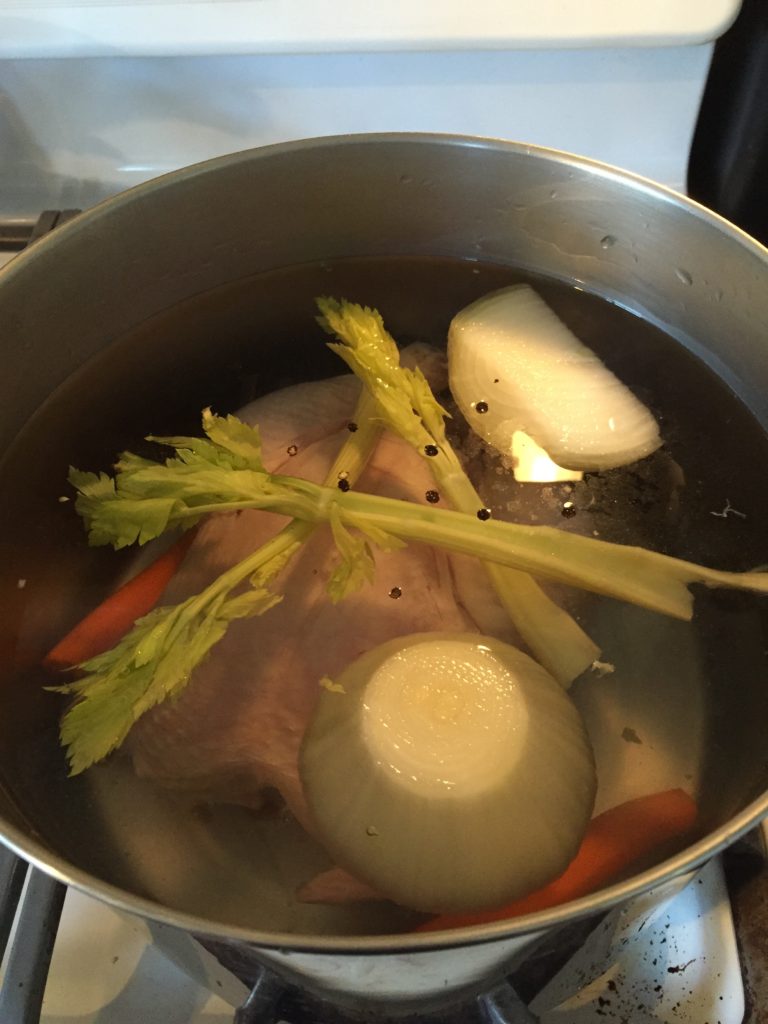 At that point I remove it from the heat and let cool a little.
 I remove the chicken and cut it into small pieces, removing all bones and skin.
 I strain the rest of the broth through a fine mesh strainer into another stock pot, removing all vegetables and bouquet garni and discarding them.
I then add to this broth – the peeled and diced carrots, diced celery, peas, noodles, diced chicken and additional salt to taste.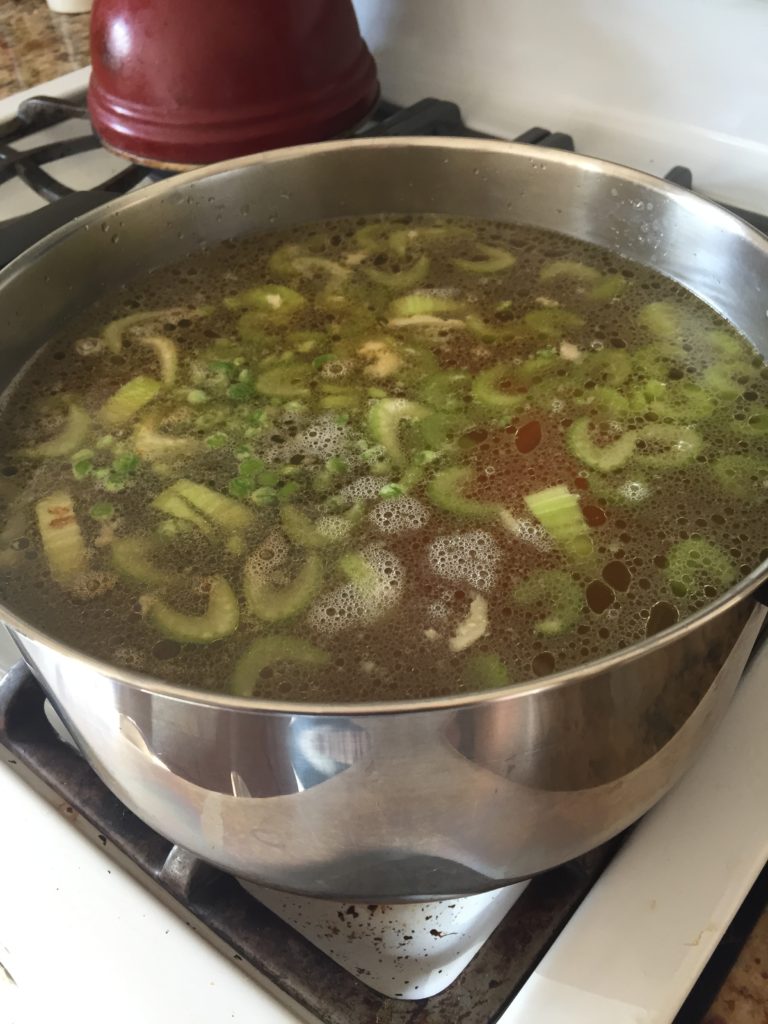 Let this come to a boil and simmer for about an additional 1/2 hour.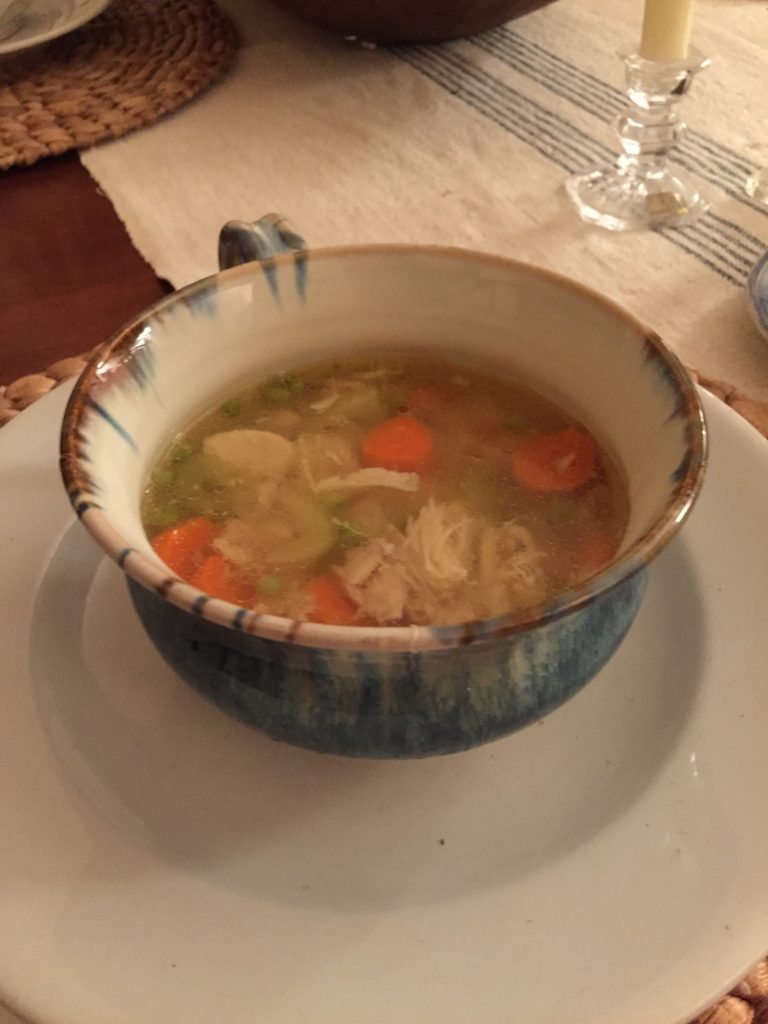 Then serve with some crusty bread and enjoy! Fondly, Michelle
Please follow and like us: