I opened the front door and in flew an unexpected guest.
It was late Friday evening, I was tired and ready to crawl into bed, but the dog needed to go out, so I put on his leash and headed toward the front door.  It was dark outside and as I pulled the door open I heard and felt something rush past my head.  My heart raced and then my brain caught up with my senses and I knew at once what had happened.
A few weeks earlier I had noticed some twigs and dried grass placed in the faux boxwood wreath that hung on the front door.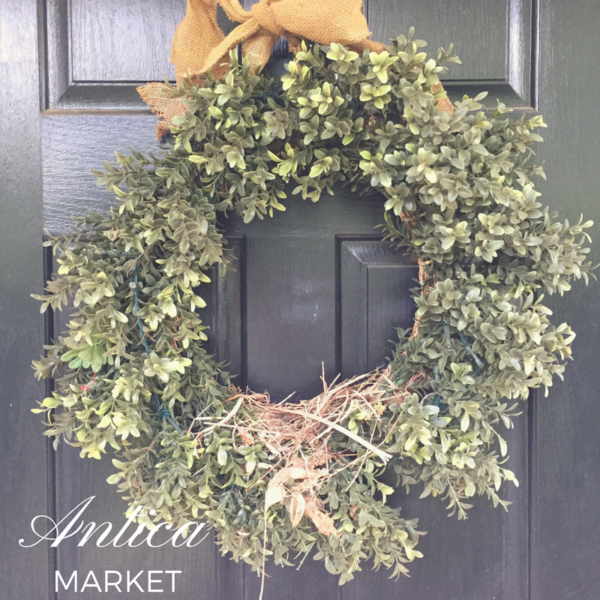 I knew some birds were building a nest there, but I hadn't actually seen any sitting in the wreath and instead of cleaning it out right away, I left it.  A decision I now regretted.
I quickly shut the front door and started turning on lights in the living and dining rooms.  I quickly spotted a small brown bird.
This isn't the first time this has happened, about two years ago we had a similar incident.
The lighting is not great, but here's a photo I snapped of that incident.  Ironically, the bird perched himself on a topiary in line with a group of prints I have hanging in the dining room of escaped birds outside their cages.  The bird that flew in on Friday night was very similar to this little guy, I think it was a little brown sparrow.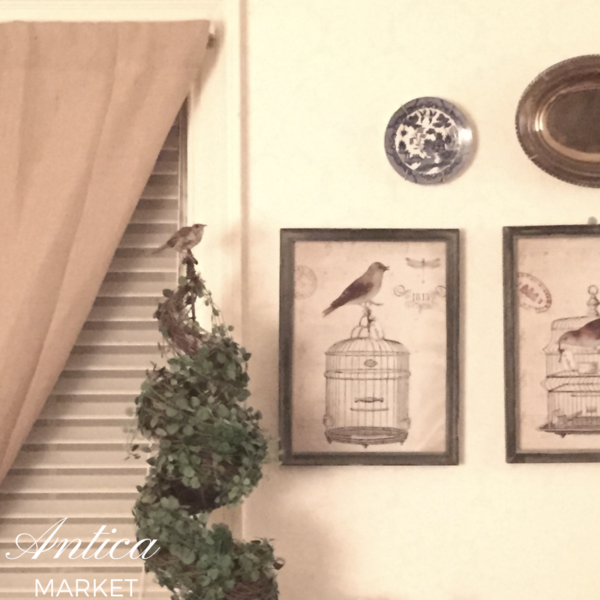 I had my daughter run and search for her butterfly net, but her search proved futile, so I went into the garage and poked around until I came out with a lacrosse stick and some garden gloves.  By this time, the bird had made his way upstairs and we rushed to shut all the doors to the bedrooms.  Now the dog was caught up in the excitement of catching our feathery friend, so we had to quickly tether his leash to a door knob.
After a few attempts at catching him with the lacrosse stick proved useless, I decided to put on the garden gloves.  He darted for a wall and then faltered to the floor, a bit stunned but not hurt.
I scooped him up, which elicited frantic peeps.
I made sure I wasn't holding him too tightly and reassured him in a gentle tone that everything was alright as I headed out the front door.
I awoke the next morning to the usual chirping of the songbirds outside my window.  One bird's chirps seemed louder and closer than the others.  I thought, "oh, no!"
I hurried downstairs and sure enough, there was another small sparrow in my dining room!  "You poor thing", I whispered.  We evidently missed this one the night before and he had spent the whole night in the house.  I reached out and cupped him in my hand, as I had the one the night before, and gently set him outside.
This whole episode reminded me of a verse of scripture that had been impressed upon my heart a few weeks ago.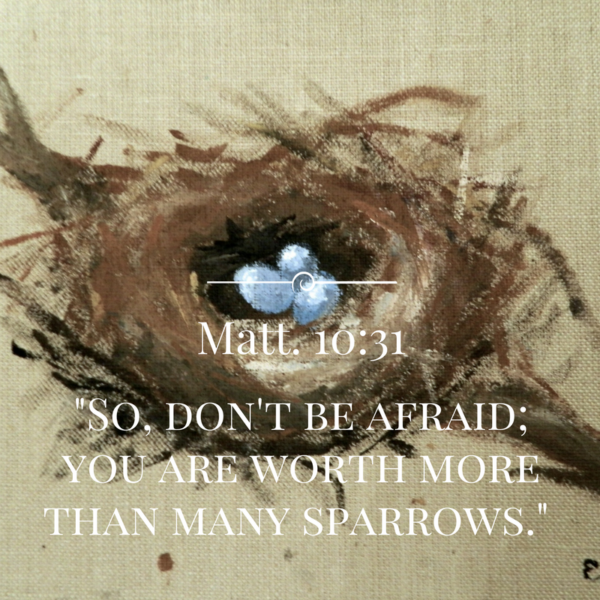 I have really needed this reminder lately as I find myself struggling with with the worries of life.  I'm sharing this story today because perhaps you too have struggled with anxiety.
As much tenderness and concern that we had for these two little unexpected houseguests finding their way home, the Lord reminds us in Matthew 10, that our Heavenly Father also cares for the littlest of his creation and much more for us!
Matthew 10:29-31 "Are not two sparrows sold for a penny? Yet not one of them will fall to the ground outside your Father's care.  And even the very hairs of you head are all numbered.  So don't be afraid; you are worth more than many sparrows."
While I wasn't happy that my plans to head to bed early Friday night were altered by our little house guest, I am thankful that the Lord uses every day occurrences like these to reminds us of greater truth!
Fondly, Michelle
Please follow and like us: