Everyone loves a good before and after, so today I want to share my latest furniture flip with you.
Sometimes you just stumble upon that perfect furniture piece, you brake out in a grin, the adrenaline surges and then you flip over the price tag.  I know you know what I'm talking about – sticker shock hurts.
But, imagine the giddiness of finding the perfect piece, flipping the tag and the grin doesn't fade.  That is the true beauty of a thrift store find.
While out thrifting one morning I spotted the perfect little demilune console.  I looked it over and was immediately drawn to  it's shape, hardware and carved details.  Anticipating the sticker shock, you can imagine my delight when I saw that it was just $40.00.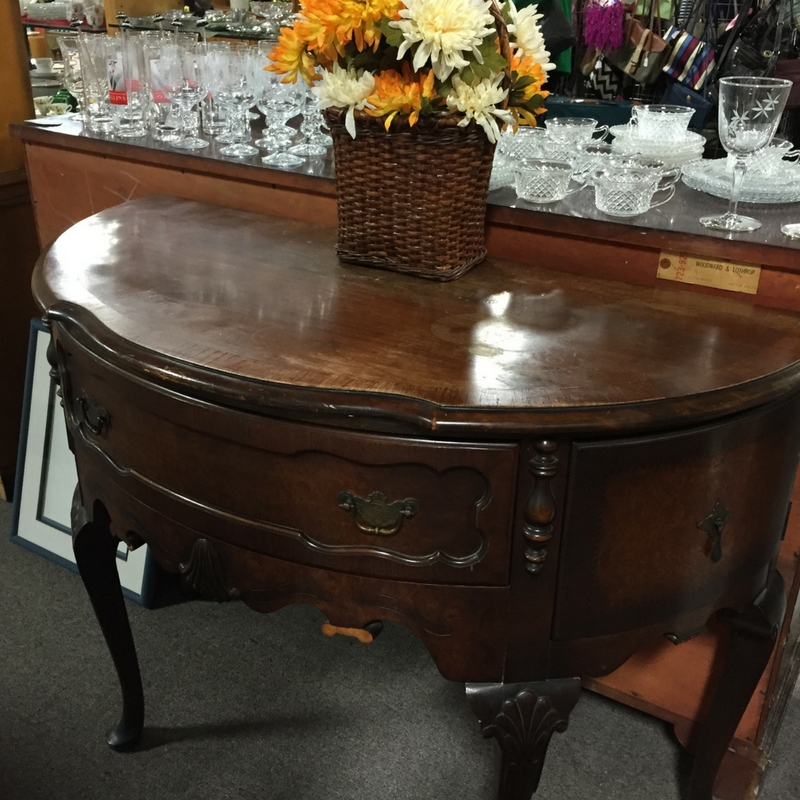 Now if you look closely (which by the way, I did not) you will probably notice that the piece had a few problems, but as they say, "love is blind", and I do tend to overlook some details when I fall this hard.  When I saw the $40 price tag I turned a blind eye to all it's little issues.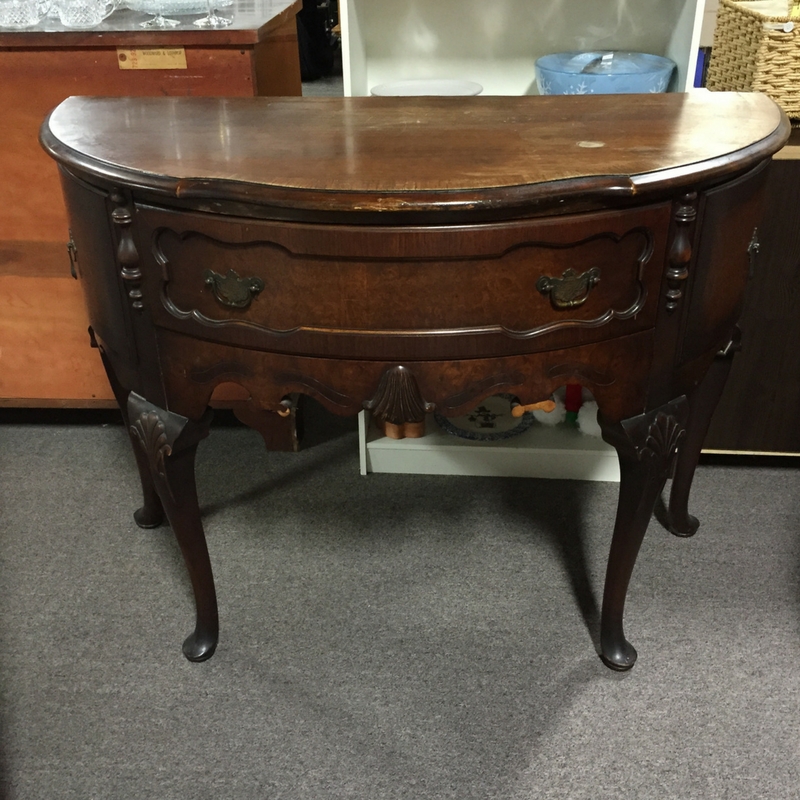 It was only when I got it home that I realized how extensive it's flaws really were, bubbling veneer on the top, two missing pieces on veneer on the front and some white water stain marks.  This definitely posed a challenge, but I also realized when it was in my home that this piece was meant to stay in my house.  I had the perfect spot for it in the dining room – a spot that used to hold a beautiful painted sideboard that I ended up selling last year at Sweet Clover Barn. It was a beauty, but selling hand painted furniture at the barn is what I do and I needed this piece to fill the space last fall, so off it went.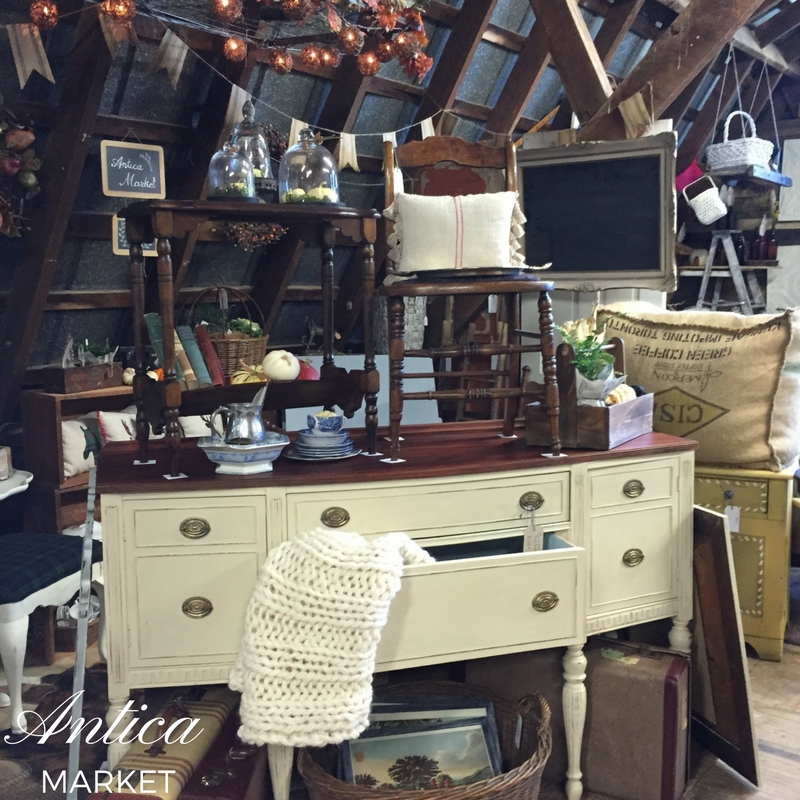 With this former sideboard as my inspiration I knew I wanted to paint the bottom, but leave the top of the demilune sideboard stained, which of course posed a problem because I was going to have to repair the top.  So the first thing I did was address the missing pieces of veneer. I used a product that I've grown to love and rely on – SculpWood modable epoxy putty.  I may dedicate a later post entirely to this product.  You just mold the putty into any shape, work it onto the wood, let dry and sand.
Next I took an X-Acto knife and carefully lifted the bubbling veneer on the top and squeezed in some wood glue.  I weighted down the top for some added pressure as it dried.  When everything was dried I sanded the top down.  It's not pretty at this stage, but here is what it looked like at that point.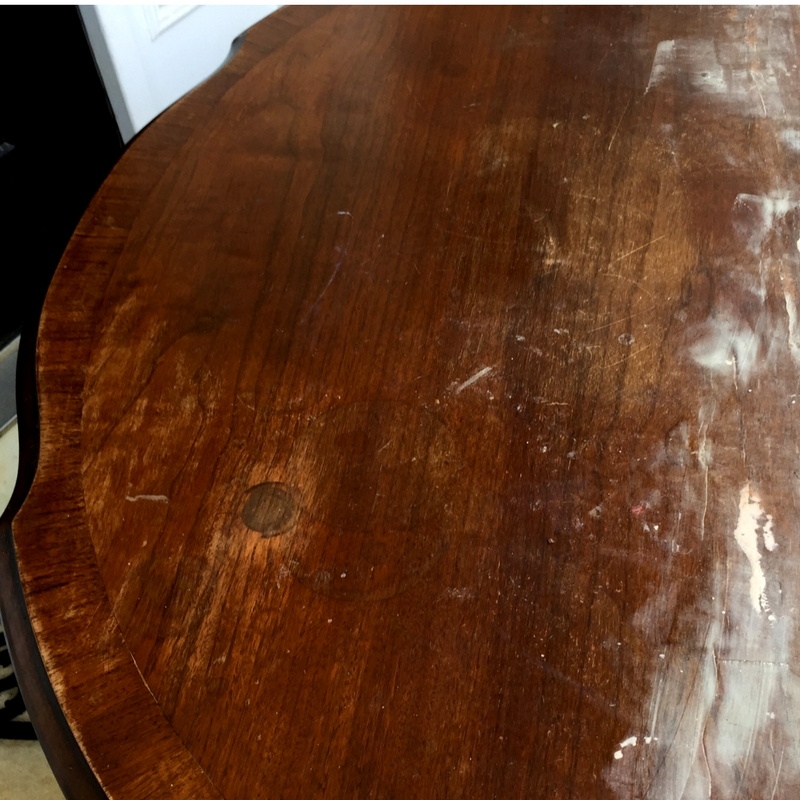 I painted the the bottom of the piece in General Finishes Milk Paint – Antique White and lightly distressed it.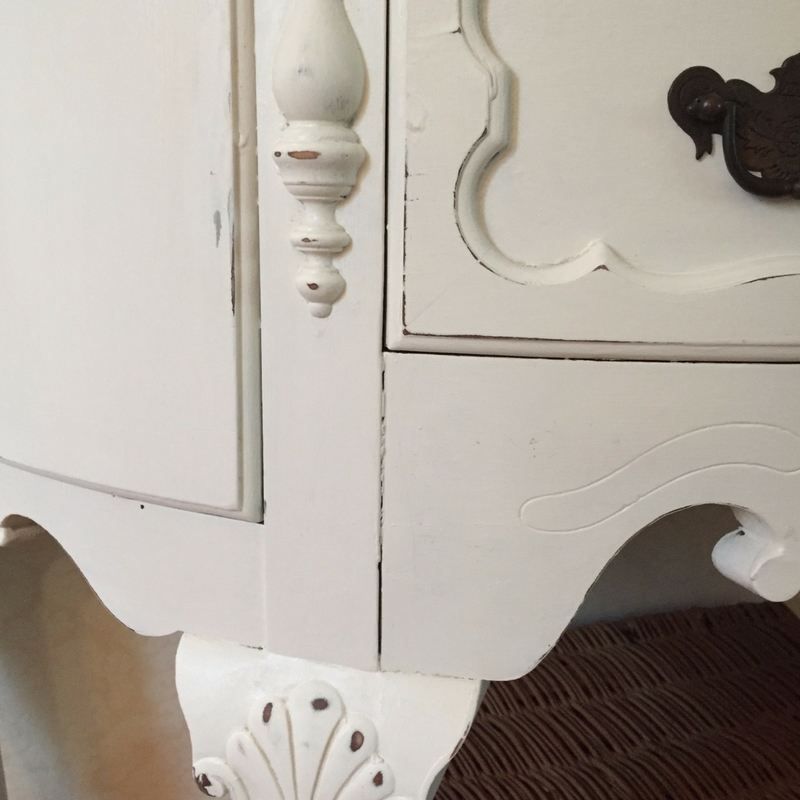 I thought I would have to paint the top as well to cover over the repairs until I found General Finishes Java Gel stain.  I gave it a try and couldn't believe the coverage it provided with one coat.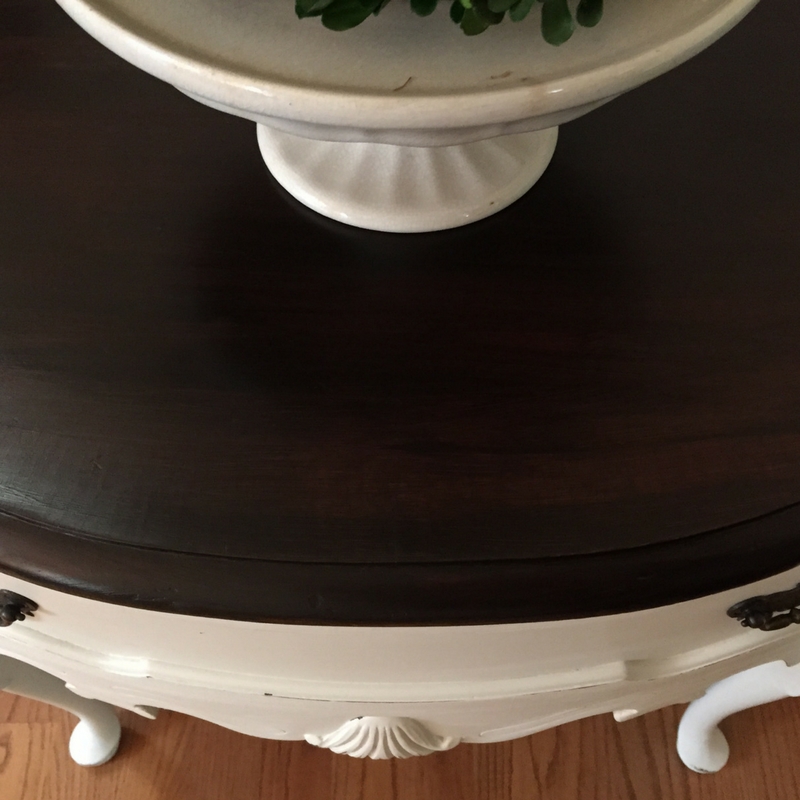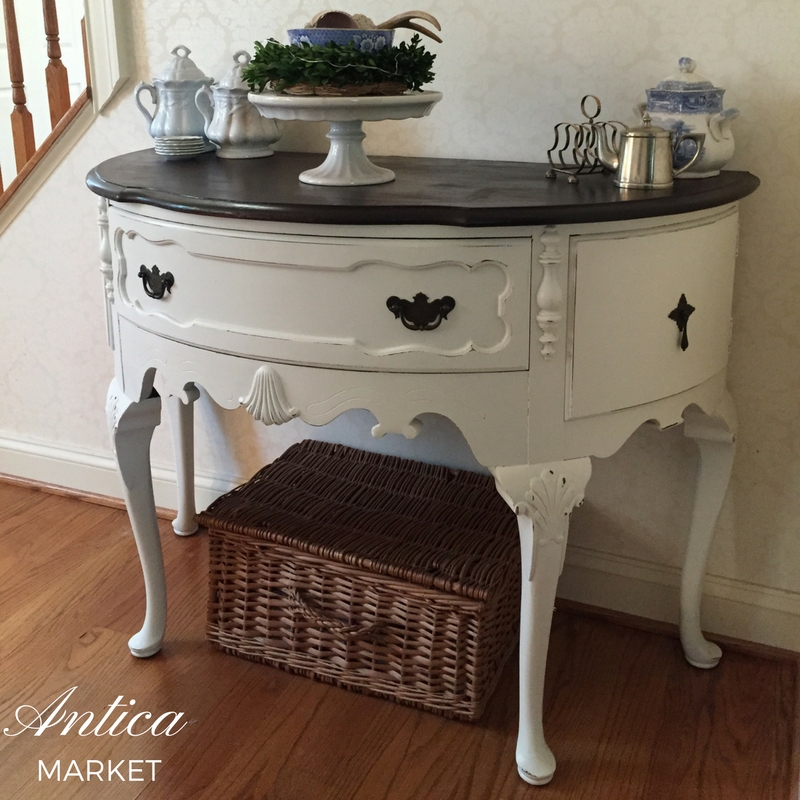 And now my little $40 demilune sideboard has a new look and a new home in my dining room.  I would love to answer any questions you have about using any of the products I mentioned or any other questions you might have.  Happy thrifting!
Fondly, Michelle
Please follow and like us: